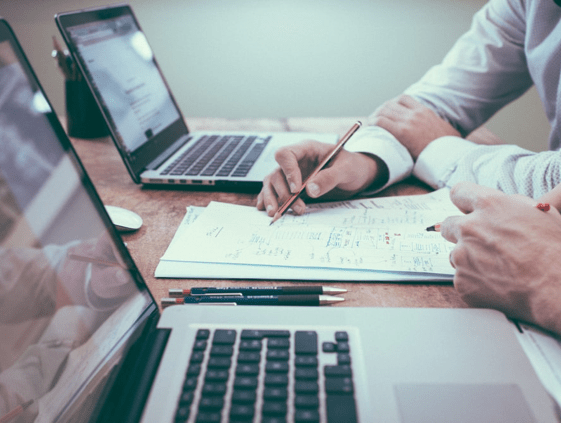 APPLICATIONS ARE CURRENTLY CLOSED
If you would like to be notified for future programs, let us know by clicking on the "I'm Interested" link below.
Applications are currently Closed. Subscribe to our LinkedIn page and follow our Blog to get the latest updates.
Interapt is partnering with General Assembly to offer free, world-class training through its Java Immersive Program. Equip yourself with essential programming languages, relevant tools, and the strategies needed to embark and succeed in a software engineering career.
BUILD ESSENTIAL DEVELOPER SKILLS:
Get hands-on experience with Java, the most popular programming language used by leading institutions and companies worldwide, through GA's award-winning curriculum!
Through this free, full-time 12-week program, you will learn how to build responsive websites with HTML and CSS tools and leverage JavaScript to create highly interactive websites. Dive into the Spring Boot framework to create scalable web applications and learn the React approach to building performant and scalable web applications in high demand, no matter the industry!
Most importantly, you'll connect with experts, dedicated career coaches, and a global alumni network.
Land the Job, Advance your Career
Put your training to use by launching a high-growth, high-pay tech career. Upon successful completion of the Java Immersive training, you'll have the chance to land a full-time apprentice developer role at Interapt or one of its approved hiring partners.
Ready to take advantage of this free, exclusive training opportunity? Follow the step-by-step process below to apply for the next remote program starting in November, 2021. This is a full-time training program offered virtually.

Application & Acceptance Process

1. GET IN TOUCH
Indicate your interest by submitting your contact information via the 'Apply Here' form link or the QR code above.

2. PHONE INTERVIEW
You'll speak with one of our Admissions team members to discuss your interest in the program, your professional goals, and the ability to commit to the full program.

3. TUTORIAL
Next, we'll ask you to complete an online tutorial and exercise. This exercise will allow you to dive into fundamentals and confirm if this training is right for you!

4. BEHAVIORAL INTERVIEW
After passing steps 2 and 3, you'll interview with GA's Admissions team, where you'll have the opportunity to elaborate on your work experience and interest in the program.

5. ACCEPTANCE
If you pass the interview, you'll advance to the three-month full-time program. Classes will be held live, virtually through Zoom video conferencing software from
November 2021 – January 2022
General Assembly is a global educational company on a mission to empower individuals and companies through dynamic training programs in coding, business, data, and design. A leading source for training, staffing, and career transitions, we foster a flourishing community of professionals pursuing careers they love. Click here for more information about GA.
Interapt was established as a mobile and web application development firm in 2011. Today, it also fills the tech gap by training a new generation of talented software developers. Interapt's vision to create thriving, inclusive technology ecosystems that invest in people and communities across America. Learn more about Interapt.