Skill Up, Get Hired with Interapt SKILLS
Interapt, in partnership with Knowledge Transfer, is launching a 12-week program to equip the next UX/UI designer.
User interface (UI) design refers to the way a site looks and how people interact with a product (buttons, icons, menu bars, typography, colors, and more). User experience (UX) design refers to the experience a user has when interacting with a product.
Starting February 7, 2022, students will journey through a 12-week, full-time program focused on learning the roles of a UX Specialist and a UI Designer. Throughout the three-month virtual course, students will learn industry tools and technologies including Mural, Adobe XD, Tableau, HTML and CSS.
Participants in this UX/UI Design Immersive training program will learn how to research and understand users, design powerful and dynamic user interfaces, use design thinking techniques, function in an Agile environment, and conduct usability testing. Students will also learn how to identify and utilize appropriate UI design patterns and properly use typography, images, and color to enhance a user's experience.
Participants will be in classes from 9 a.m. to 5 p.m. CST, Monday through Friday starting February 7 through April 29. Students can expect one to three hours of homework each night. For those that are interested in pursuing product management, there will be an optional additional week of training.
The instructor will work with the participants, helping them design, code, and build. By the end of the program, students will have several portfolio projects, which can be used to demonstrate their skills to potential employers for career advancement.
Participants will be offered a small bi-weekly stipend of $250 during the program.
After the 12-week training, Interapt will offer select candidates a career opportunity with Interapt to support clients across multiple domains and industries.
If you have questions or would like to learn more, Interapt is hosting an information session on December 13 at 6 p.m. ET. Register here.
Interested and ready to apply? Fill out the application here.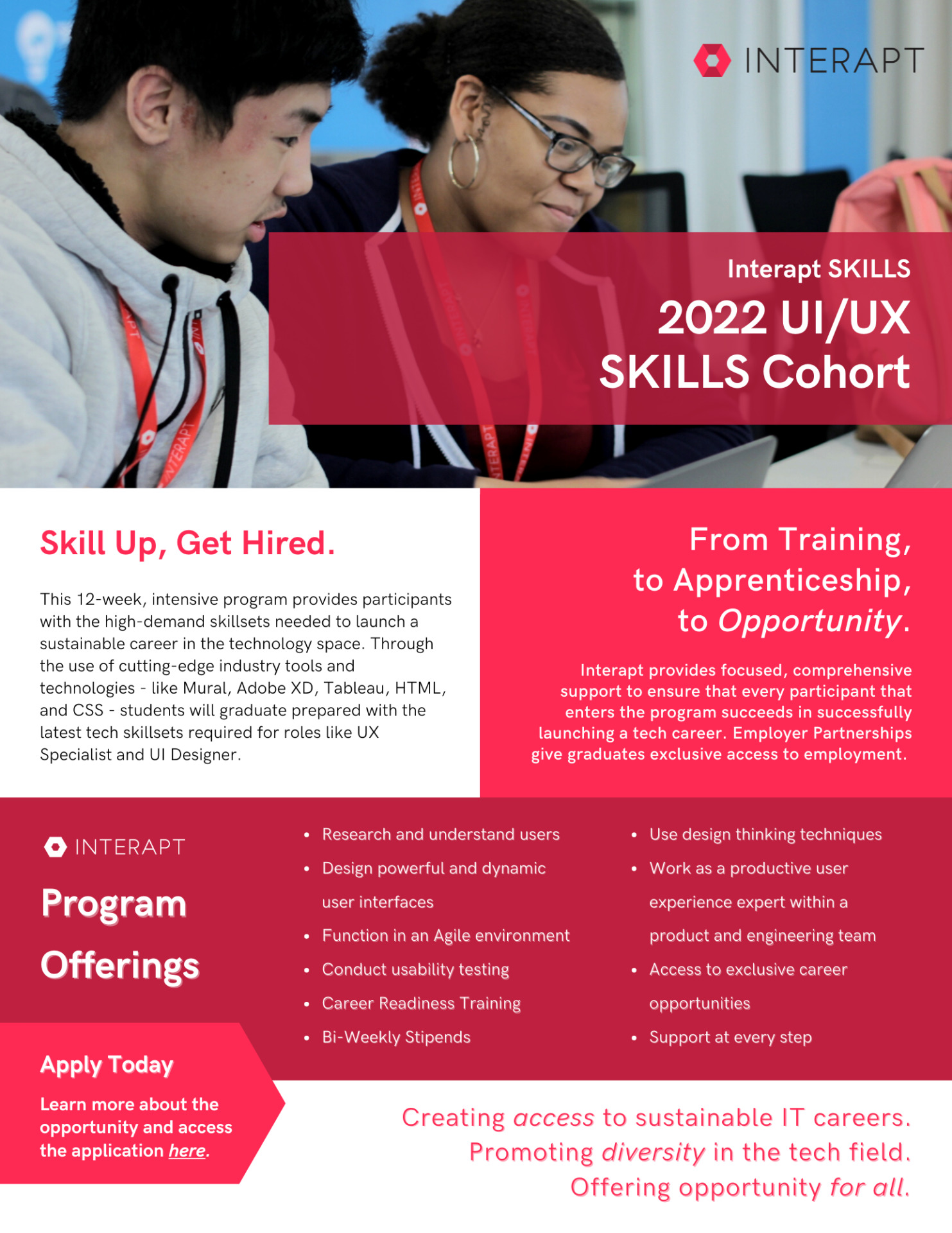 About Interapt
Interapt, based in Louis
ville, KY
, offers solutions 
that bridg
e the g
ap be
tween business, 
technology and the people who mak
e it happen – with 
expertise in business inno
vation, digit
al 
transforma
tion, and IT w
orkforce appr
enticeship
s. 
Interapt launched its w
orkforce de
velopmen
t 
program, In
terapt Skills, in 2015 t
o empo
wer humans 
with the t
echnic
al, business, and lif
e skills 
needed t
o mee
t the e
xpect
ations of t
oday's emplo
yers. 
To find out ho
w we can help y
our 
business, visit 
https://in
terapt.com/
contact/
.
About Knowledge Transfer
For nearly 25 years, Knowledge Transfer has provided training and managed learning services for numerous clients world-wide. They work with everyone, from the individuals at a company looking to learn more about the IT world, to Fortune 500 companies seeking to establish or grow their training management department. They are constantly updating their vast catalog of courses to make sure they always have the right training, at the right time, for the right price.