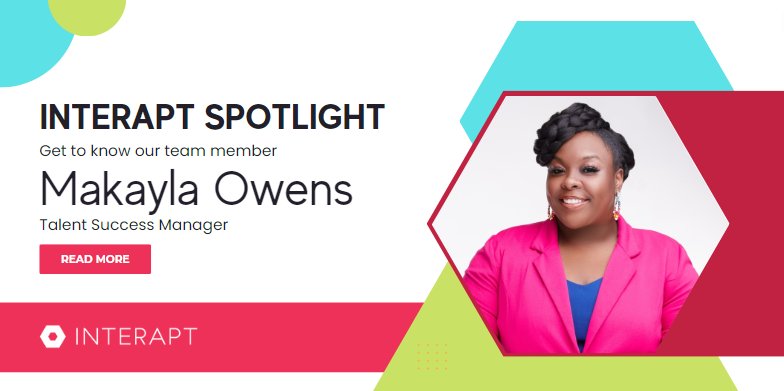 Next on our employee spotlight is Makayla Owens! Makayla currently lives in Louisville, KY, and is a Talent Success Manager at Interapt. We are extremely appreciative of Makayla's passion, spirit for change, and dedication to seeing success at Interapt!
Q: What were you doing before Interapt?
A: I've had the privilege of working in the dynamic realm of Higher Education, where I've dedicated my efforts to roles that directly interacted with students, clients, and the community. These positions not only enriched the educational journey but also posed daily operational challenges.
Q: What brought you to Interapt?
A: For a while, I've been intrigued by the tech sector. Observing its evolution through the boot camp culture, I've aspired to delve deeper into crafting educational methods that enhance leadership skills and assess the achievements of individuals reshaping their professional paths. Interacting closely with apprentices from diverse backgrounds and varied experiences, my emphasis lies in fostering a feeling of inclusivity and enhancing technical skills.
Q: What do you like about working at Interapt?
A: The most rewarding aspect of backing individuals affiliated with Interapt Skills is offering 'opportunity equity.' I deeply appreciate that our resources are available to all, and our team is resolutely committed to making a significant contribution to workforce development. I've forged valuable connections with a diverse group of individuals, and I value the significance of each of their unique experiences.
Q: How has your career grown since starting at Interapt? Feel free to add any projects you are proud to have been a part of or skills you have gained since joining. 
A: I take immense pride in the strategic planning, innovation, and meticulous organization of operations the Interapt Skills team accomplished in the past year. Our collective efforts have not only driven success but also positioned us for continued growth and excellence in the future. The path of my personal growth has empowered me to operate autonomously, utilizing tailored coaching techniques to effectively enhance the performance of others. By fostering a supportive environment, I've been able to encourage and facilitate the development of individuals in a way that aligns with their unique strengths and aspirations. This goes for colleagues, direct reports, and/or employer partners.
Q: What would you share with someone interested in working at Interapt?
A: Your search can stop right here – Interapt is the place to be! Join us in enhancing partnerships, equipping talent for their future careers, and building a culture of community. While entering the tech industry might appear daunting, Interapt focuses on establishing secure and stimulating environments for talent to excel in. You can make an impact.
Q: Please share a bit about who has influenced you the most when it comes to how you approach work.
A: There's an incredible woman named Jackie Sidney, who I love dearly, and who always made it a point to be an active part of my collegiate career. She helped me set the tone – truly map out what it was that I wanted in life and how I was going to get there. Actions and Mentality. She said to me often: "Now why would I tell you what to do, when this is your life. You must decide what to do and stand firm in that decision. See it through and if it doesn't work, try something else." I take that with me wherever I go! There's no cookie cutter pathway and everything won't go as planned. You can only control so much at a time. Stay aware, stay true to yourself, and use failure to fuel you. You can do anything.
Q: Please share a little about yourself. 
A: I'm a mom to an almost two-year-old, wife to my high school sweetheart, the best daughter my parents could've asked for, etc. Fun fact: My first time on a plane was also my first time traveling abroad. The trip was so good, I booked another one. Thus, my second time on a plane was also my second time traveling abroad. Hobbies include: singing, cooking (and trying tons of unique restaurants), spending time with friends and family, and exploring the outdoors!
Q: What piece of advice would you give to your younger self?
A: Being yourself will open doors, too. Don't let anyone tell you differently.
Q: What is your favorite vacation spot or dream travel destination?
A: It's hard to choose between Santorini, Greece and Bali, Indonesia!
Q: What, if anything, are you currently binge-watching? Listening to? Or reading?
A: Seriously too many shows to name! I am currently listening to Renaissance x Beyonce and reading Think Again x Adam Grant.
Q: What hashtag(s) describe your personality best?
A: #goaldigger #changeagent #authentic #creative