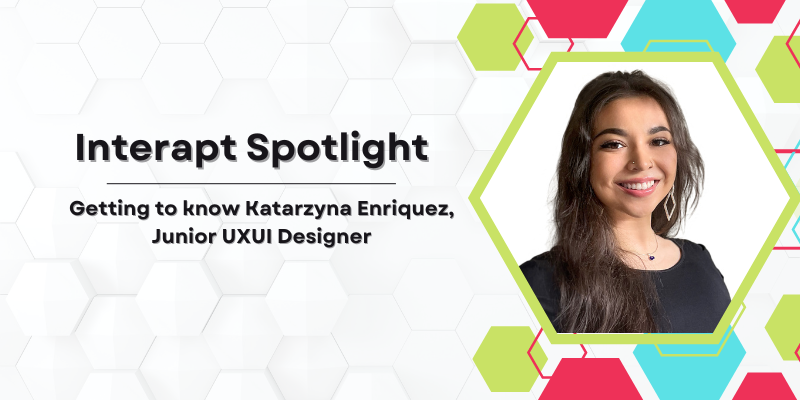 Katarzyna Enriquez joined Interapt in June after graduating from the UXUI Design Cohort with Interapt Skills. She is currently working in our engagement with CVS Health as a Junior UXUI Designer. Katarzyna resides in Seattle, WA.
Q: What were you doing before Interapt?
A: Before Interapt, I had just graduated college with a Sociology and Anthropology degree and was working in a restaurant.
Q: What brought you to Interapt?
A: I heard about the opportunity through family members, and decided to go for it!
Q: How has your career grown since starting at Interapt?
A: My career has grown significantly because Interapt has given me the opportunity to join CVS Health. I've learned so much about how UX Design can significantly and positively impact a company. I'm excited to apply these skills to various organizations throughout my career.
Q: What do you like about working at Interapt?
A: The people! Being able to go through a life-changing bootcamp, and now seeing how each of us shine in the CVS atmosphere is inspiring!
Q: What would you share with someone interested in Interapt's training programs?
A: This is a great opportunity to finally get into the field you've been thinking about!
Q: Please share a bit about who has influenced you the most when it comes to how you approach work.
A: My Anthropology professor from college, Kim Cameron-Dominguez, has influenced me to constantly question relations from all perspectives. This has helped me in my approach to human-centered research in UX because we need to understand how systems and people affect one another in order to make products user-friendly.
Q: What would you like to share about yourself (family, pets, fun facts, hobbies, etc.)
A: I love hiking, swimming, camping, dancing, traveling, reading, and writing.
Q: What hashtag(s) describe your personality best?
A: #chill #vibes #art #creative #community #music