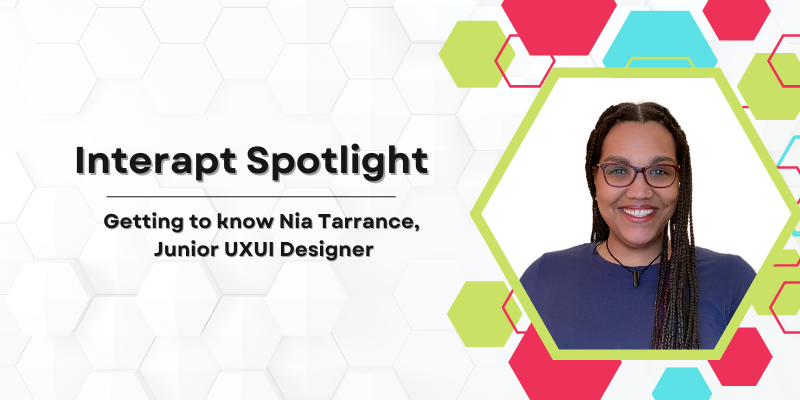 Nia Tarrance joined Interapt in June after graduating from the UXUI Design Cohort with Interapt Skills. Nia is currently working on our engagement with CVS Health as a Junior UXUI Designer. Nia resides in Pickerington, OH.
Q: What were you doing before Interapt?
A: Collections Agent at BMW
Q: What brought you to Interapt?
A: I needed a change in my career. I wanted something that inspired passion, had room for growth, and would allow me to grow my skills in tech.
Q: What do you like about working at Interapt?
A: My career has skyrocketed since starting at Interapt. I started as a UX Design Apprentice, and I am now working as a Project Manager on an engagement with CVS.
Q: How has your career grown since starting at Interapt?
A: I love our culture and how Interapt works hard to uplift people from all walks of life. I also love the push to continue educating ourselves, as well as the resources that are provided to do so.
Q: What would you share with someone interested in Interapt's training programs?
A: It may seem too good to be true, and terrifying when you take a risk to change your career, but do the thing that scares you the most. You never know what lies on the other side.
Q: Describe one accomplishment you are really proud of.
A: Finishing the UX Bootcamp. That had to be the most challenging 3 months of my life. I sacrificed so much to attend and finish the boot camp, but throughout that entire time, I felt reassured and had a wealth of knowledge at my fingertips thanks to Interapt.
Q: Please share a little about yourself (family, pets, fun facts, hobbies, etc.).
A: I live at home with my boyfriend and our cat Itachi. We are huge nerds and spend a lot of time gaming, watching anime, and traveling. I also enjoy cooking and baking for my family members. We are the type of family that will find any reason to get together and share good food.
Q: What hashtag(s) describe your personality best?