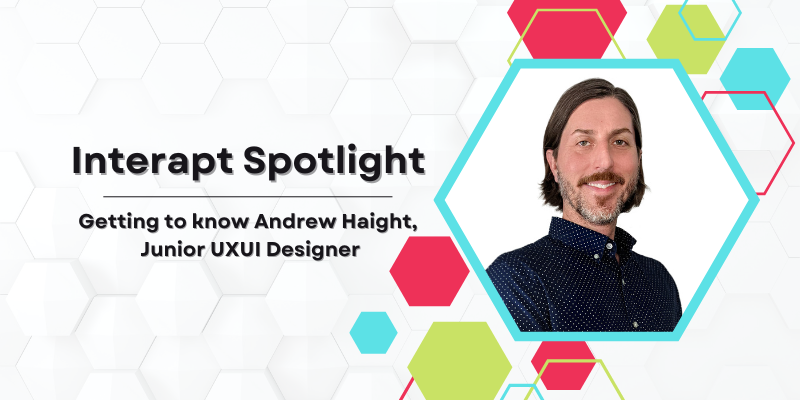 Andrew Haight joined Interapt in June after graduating from the UXUI Design Cohort with Interapt Skills. Andrew is currently working on our engagement with CVS Health as a Junior UXUI Designer. Andrew resides in Tempe, AZ.
Q: What were you doing before Interapt?
A: I was a Digital Press Operator and Lead for the Electronic Print Department at a large print company.
Q: What brought you to Interapt?
A: I wanted to get into design and development. The UX/UI apprenticeship was exactly what I was looking for because I'm completely new to this industry, so mentorship was important.
Q: What do you like about working at Interapt?
A: The amount of support and help provided to get you into a career. I've felt recognized and like I've received fantastic support. Super cool and friendly culture too, welcoming and open.
Q: How has your career grown since starting at Interapt?
A: I've been able to gain a huge understanding of UX/UI and Product Management from the boot camp and training. I was also afforded the opportunity to interview for the position and accepted the job offer, so now I'm actually in a career in the industry I want to be in.
Q: What would you share with someone interested in Interapt's training programs?
A: That they are legitimate, well structured, and effective. I would highly recommend it.
Q: Please share a bit about who has influenced you the most when it comes to how you approach work.
A: Two people come to mind: My former instructor for web development because his approach was very pragmatic and sensible. I remember a quote he told me "Things are only a problem when you add emotions to them. Without emotion, it's only a situation, not a problem." Another is more recent: Jon, the lead designer on my current product, has such a charismatic and helpful attitude that I want to incorporate that energy into my modus operandi.
Q: Please share a little about yourself (family, pets, fun facts, hobbies, etc.).
A: I'm married to my best friend, have been for a decade now, we have a 9yo pug (which is like living with a comedian because he's so ridiculous), and I'm a rock climber and former coach of Life Time fitness' youth rock climbing courses/head route setter for their rock walls.
Q: What hashtag(s) describe your personality best?
A: #friendly #helpful #approachable #knowledgeable