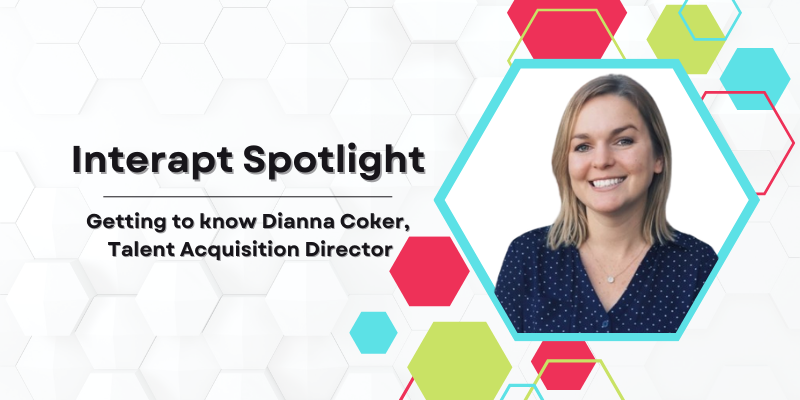 Dianna Coker joined Interapt in late 2020 after the pandemic took the world by storm. Dianna serves as the Director of Talent Acquisition here at Interapt, and often assists with finding the apprenticeship talent for Interapt Skills. Dianna is local to our headquarters here in Louisville, Kentucky!
Q: What were you doing before Interapt?
A: I stumbled into recruitment in 2013 and have been primarily focused on technology recruitment ever since. I did not come from a role in technology but was given the opportunity to learn the framework and gain a better understanding of how "IT" works. Then I was able to put my experience to good use connecting with talent and looking to understand more about how to connect candidates to the right opportunity.
Q: What brought you to Interapt?
A: I lost my job at the start of the pandemic when so many were looking to pull back on hiring. When I joined the Interapt team, I realized right away that Interapt was a place that cared about the people that worked there. I was given a level of autonomy and flexibility that was so helpful during uncertain times.
Q: What do you like about working at Interapt?
A: The role of recruitment and talent acquisition exists in every organization, but Interapt is truly invested in making a difference. There is a place for all levels of talent here as long as you are motivated and willing to challenge yourself. Interapt is an organization that helps to eliminate obstacles for those that have haven't been able to pave a meaningful career path for themselves in tech and just as much a home for Senior talent that is passionate about mentorship and development.
Simply stated – I enjoy the people I work with and the mission behind Interapt. Interapt has given me an opportunity to be more intentional when it comes to Diversity, Equity & Inclusion. I have always been interested in each candidates story, but here at Interapt those stories are more than just the skills they already have. Having the ability to show people there is a pathway for everyone and a way to get there is really exciting.
Q: How has your career grown since starting at Interapt?
A: Interapt has given me the confidence to own and take credit for the work that goes in to Talent Acquisition.
Q: What would you share with someone interested in Interapt's training programs?
A: Interapt is a great home for someone who is just getting started professionally, who is interested in a 180 career pivot and especially those rockstars out there who want to stay hands on, but are excited about sharing knowledge through mentorship. Those that are successful at Interapt share these common characteristics – Aptitude, Drive & Compassion.
Q: Please share a bit about who has influenced you the most when it comes to how you approach work.
A: I have had a number of influences throughout my career – not just one person has molded how I approach work. Taking both positive and negative experiences has helped me pave a path in my career that I enjoy. I love what I do and excited to see what is in store for 2023.
Q: Please share a little about yourself.
A: I am married, and a mother to two wonderful daughters and a sweet dog, named Cubby. My husband and I love to travel to new cities and try to take the kiddos when we can. We are a close family that does everything together!
Q: What piece of advice would you give to your younger self? 
A: Don't be afraid to challenge yourself. Jumping into situations that challenge you will help you find your best self!
Q: What, if anything, are you currently binge-watching? Listening to? Or reading?
A: Yikes… that's a tough one. I have done a lot of binge – watching over the last 2+ years. My Mind Growth Resolution for 2023 is to read at least 1 book per month. I'm hoping to actually pick up paper back copies and put down my phone more this year.
Q: What is your favorite vacation spot or dream travel destination?
A: I loved my trip to Europe with my husband more than 10 years ago. I would love to visit several countries in Europe with my entire family.
I hope to one day (soon) have the ability to travel the world with my family.
Q: What hashtag(s) describe your personality best?
A: #hopeful #ready #motivated #committed #open-minded #teachable #collaborative #intuitive