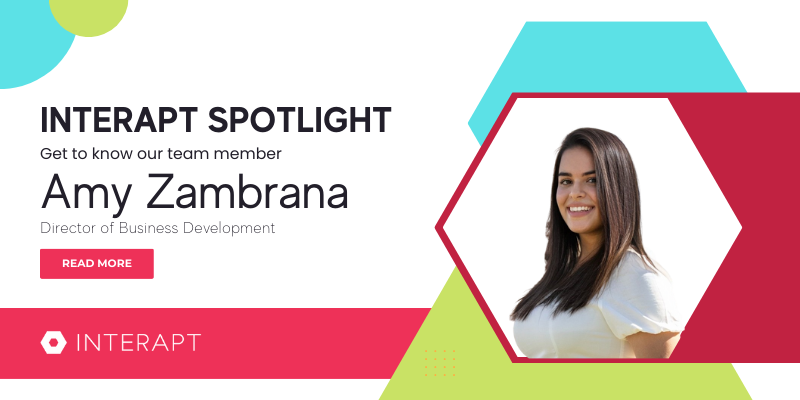 Amy Zambrana joined Interapt in the summer of 2022 and has quickly acclimated to the culture here at Interapt and was recently recognized as our Rising Star for 2022. Amy serves as the Director of Business Development here at Interapt, and assists with many parts of the business. Amy is located in Orlando, Florida! 
Q: What were you doing before Interapt?
A: Before joining Interapt, I was working with educational programs and national grants for a nonprofit as an Executive Project Manager. A lot of my day revolved around analyzing data and leading teams on over 43 school sites and summer camps!
Q: What brought you to Interapt?
A: Interapt's vision of Skill-based hiring is everything I have ever hoped for the job market to become. They not only believed in you, but invest in you and set you up for success. When I saw a position open that aligned with my experience, I couldn't resist!
Q: What do you like about working at Interapt?
A: THE PEOPLE! I cannot emphasize enough how amazing, supportive, kind, and talented everyone on my team is. You always have someone to reach out to for help and you will always be met with a smile. My team is what keeps me going and makes me proud of the work I do.
Q: How has your career grown since starting at Interapt?
A: When Interapt says they invest in you, they mean it! Since starting at Interapt, I have had the pleasure of attending networking conferences, learning new softwares and systems, and was even encouraged to take courses and certifications that support not only my current position, but my overall career trajectory. I consider myself a jack of all trades now, and that's because of my role here!
Q: What would you share with someone interested in Interapt's training programs?
A: Interapt's training programs are inspiring and life-changing. I encourage every tech-y person in my life to apply and participate in the training programs.
Q: Please share a bit about who has influenced you the most when it comes to how you approach work.
A: My parents by far are my biggest inspiration in how I approach work. We are Cuban refugees and while I do not remember much from Cuba, I know my parents have always struggled and endured hardships to provide their children with the best possible future they could. To this day, they are approaching retirement age and continue to work hard as truck drivers all throughout the country. They have shown me the importance of working for everything you have and giving it your all. I am proud of them in everything they do!
Q: Please share a little about yourself.
A: I am married to my middle school sweetheart, a drummer/coder/comedian, and we have 2 Shiba Inu dogs together that run our household. My husband recently began a cohort through Interapt and we are most looking forward to traveling the world. I love cooking, baking, cycling, and graphic design!
Q: What is your favorite vacation spot or dream travel destination?
A: I have been to a handful of states and tropical countries and Spain. However, my top destinations that I would love to visit soon are Italy, France, Switzerland, Portugal, Hawaii, and Greece.
Q: What hashtag(s) describe your personality best?
A: #outgoing, #determined, #hopeful