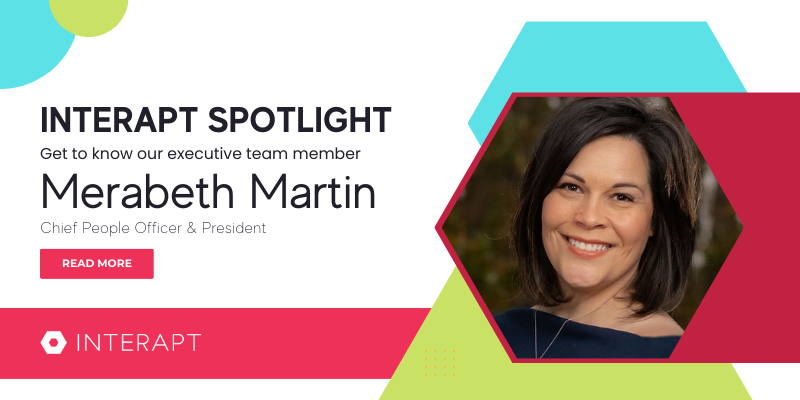 Merabeth Martin joined Interapt in April of 2020 and has been a trailblazer in accelerating Interapt Skills to where it currently is today. As Chief People Officer and President here at Interapt, Merabeth keeps the business running as a well-oiled machine! She is located in Jacksonville, Florida. 
Q: What were you doing before Interapt?
A: I had just wrapped up a five-year stent as the Head of People for a global energy analytics company, and recently relocated from my hometown of Louisville, KY to Jacksonville, FL with my husband and three children. It was the first time in my professional career, apart from maternity leave, that I briefly stepped away to focus on my family. One afternoon I received a call from a prior colleague asking me if I'd help him scope out a new role for his current company; several weeks later I unexpectedly found myself signing an offer letter. And, well, the rest is history.
Q: How has your career grown since starting at Interapt?
A: You know, one of the best things about Interapt is the ability to flex a variety of muscles; even if its ones you didn't know you had! When I joined the org, I was initially tasked with building out an HR function. Almost immediately I realized there was something special in the company's DNA; an authentic commitment to bridge the tech talent and equity gap through skills-first hiring – something I hadn't seen in previous organizations, but knew was desperately needed in the current landscape. . . and a practice I wholeheartedly believe in.
Today you can find me working alongside the Executive Team, Finance, HR, Sales, Marketing, and Business Operations. I'm doing things I've never done and am constantly being challenged to step outside my comfort zone. Every day I learn new things and am grateful to be surrounded by a team of people that genuinely want to succeed. It's humbling but also very rewarding.
Q: How has being a wife and mother helped shape you professionally?
A: My husband, Ramiah, and I will soon celebrate seventeen years of marriage. We have three children together, spanning across 10 years, and have officially known each other for more than half our lives (wow!). In a sense, we've grown up together and are most definitely the best version of ourselves because of it.
Being a wife and a mom has given me a different perspective for sure. It's helped me be more empathetic, patient, nimble, and communicative to my peers and colleagues. It helped me understand the importance of establishing boundaries and being a good listener (not always a fixer). It's also made me realize that what's valuable to me may not be valuable to the person next to me; having options and are important
Q: What's some advice you have for younger career-driven professionals?
A: It doesn't matter what your title is, how much experience you have, or what your paycheck says: imposter syndrome is real. Many more people struggle with feeling like they are not enough in one area or another than you may think. Don't let fear hold you back.
Find your voice: be an ally and a cheerleader for other women and/or underrepresented colleagues. Advocate for them when they aren't in the room and find someone that will do the same for you.
Remember that vulnerability is not a sign of weakness, it's a key characteristic of a strong leader. Don't shy away from hard or honest conversations (or forget to celebrate even the smallest of wins – recognition is so important too!).
Q: What piece of advice would you give to your younger self?
A: You cannot be all things, to all people, all the time – don't even try.
Q: What is your favorite vacation spot or dream travel destination?
A: I love sunshine and being by the water. We typically don't go to the same place twice because there's so much of the world to see, but St. Lucia is worth a second visit for sure!
Q: What hashtag(s) describe your personality best?
A: #optimistic, #hopeful, #purposedriven