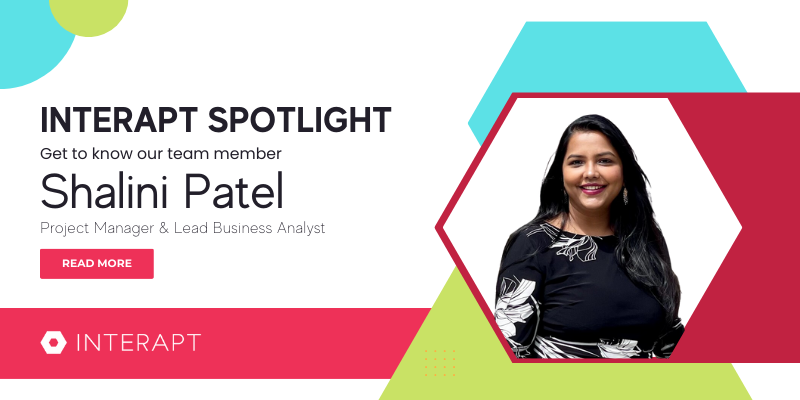 Shalini Patel joined Interapt in late 2020. Shalini serves as a Project Manager and the Lead Business Analyst here at Interapt, and assists with many essential parts of the business. Shalini is located in Atlanta, GA! 
Q: What were you doing before Interapt?
A: I was a business analyst.
Q: What brought you to Interapt?
A: Interapt's mission and values align with my personal beliefs and goals, also the company's culture and working environmentattracted me.
Q: What do you like about working at Interapt?
A: Interapt values teamwork, collaboration, and open communication. I enjoy working with my team who are very appreciative, andsupportive and always have a positive work environment.
Q: How has your career grown since starting at Interapt?
A: Tremendous career growth happened after joining Interpat, which improved my project management abilities and leadership skills.
Q: What would you share with someone interested in working at Interapt?
A: I would share about the work environment, and career growth in which Interpat invests in our professional development and team dynamics.
Q: Please share a bit about who has influenced you the most when it comes to how you approach work.
A: Jennifer and Merabeth – Jennifer has taught me how to lead a team and I have learned from her how to be a dynamic leader and a people person. From Merabeth I am learning how you can lead a team with collaboration, and effective communication.
Q: Please share a little about yourself.
A: We are a family of 5, My husband is into IT and we have 2 boys 7 years old, an almost 1-year-old baby, and a fur baby who is a cat 3 years old. I like to be creative in my free time I do digital art painting and mud mirror art(which is an old Indian art -learned recently). Also, I like to read books Simen Sinek is my favorite author.
Q: What is the best piece of career advice you have received?
A: I have had great mentors in my life, they suggested the transition from the educational field (Chemistry) to IT. That's the best adviceand decision I took in my life.
Q: What is your favorite vacation spot or dream travel destination?
A: The hot button is BEACH. Would like to visit the top 20 beaches in the world.
Q: What, if anything, are you currently binge-watching? Listening to? Or reading?
A: I am reading the book "The Mountain is You"
Q: What hashtag(s) describe your personality best?
A: #Motivated #postivethinking #positivity #influencer #impact #women-empowerment