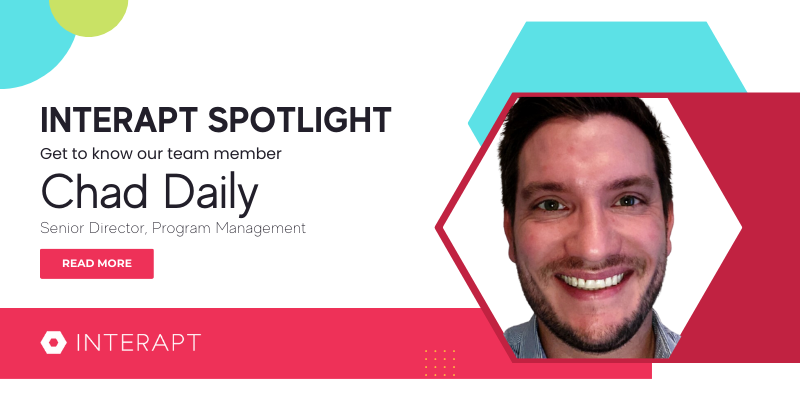 Chad Daily joined Interapt in the summer of 2017. Chad serves as a Senior Director of Program Management over our contact center solutions.  Chad is local to our headquarters in Louisville, KY! 
Q: What were you doing before Interapt?
A: Prior to my tenure at Interapt, I accumulated significant professional experience in a variety of roles, including Account Manager, Data Management Analyst, and Consultant. These positions were closely aligned with the fields of health services and information technology, affording me valuable expertise in these domains.
Q: What brought you to Interapt?
A: I was in the process of a transitioning my career to a more IT-oriented trajectory. This led me into the software development realmas a Business Analyst. During my research on potential employers, Interapt stood out to me due to their inspiring vision andmission, motivating me to become a part of their team and work towards the fulfillment of their goals.
Q: What do you like about working at Interapt?
A: I find the culture and individuals at Interapt to be highly engaging and enjoyable. My peers and leaders have consistently provided me with invaluable support and guidance, demonstrating a commitment to my professional growth. We also have a healthy dose of fun infused into our work, making it all the more enjoyable.
Q: How has your career grown since starting at Interapt?
A: My tenure at Interapt began as a Business Analyst, collaborating with project teams on software development initiatives. Over time, I have undertaken diverse roles and responsibilities, culminating in my current position as Program Manager. In this capacity, I have worked closely with a variety of clients, including a significant health services organization.
In my current role, I have gained extensive experience in leading large-scale projects and teams, while also offering valuable mentorship to colleagues. Leveraging support from Interapt, I have attended numerous leadership workshops, utilizing the knowledge gained to effectively address both client and internal requirements.
Q: What would you share with someone interested in working at Interapt?
A: Interapt prides itself on fostering diversity and inclusivity within the organization. Our team members are consistently supportive of one another's professional development, and we have a robust culture of collaboration and agility that enables us to readily respond to our client's needs. Our talented teams work cohesively to deliver exceptional results.
Q: Describe one accomplishment you are really proud of.
A: I take great pride in the accomplishments we have achieved within our BPO division, particularly in the area of client onboarding,ramp up, and execution. We have effectively onboarded and trained 150 personnel within a 60-day timeframe, while alsoimplementing and refining operational processes to ensure continued success. As a result of our efforts, we have established acritical and enduring partnership, which has now spanned over three years.
Q: Please share a little about yourself.
A: In my personal life, I have a passion for sports, particularly golf, and am an avid fan of both the Kentucky Wildcats and SanFrancisco 49ers. I cherish spending time with my family, particularly my nieces and nephews, and have a cat named Dennis!
Q: What piece of advice would you give to your younger self?
A: Explore new interests and ventures. You never know what hidden talents or passions you may discover. Don't hesitate to try new things and take on new challenges, as this can lead to both personal and professional growth.
Q: What's one thing on your bucket list?
A: Attend the Masters Tournament in Augusta, GA.
Q: What, if anything, are you currently binge-watching? Listening to? Or reading?
A: I just finished the Last of Us and I'm currently binge-watching Vikings. I like listening to podcasts, especially the Trillionaire Mindset and Huberman Lab. I am currently reading Modern Poker Theory by Michael Acevedo.
Q: What hashtag(s) describe your personality best?
A: #LifelongLearner #SportsEnthusiast #FamilyFirst