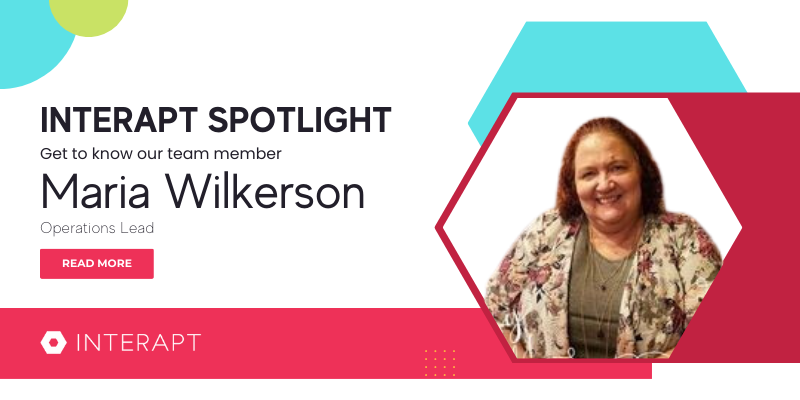 Maria Wilkerson joined Interapt in early 2020. Maria serves as an Operations Lead over our contact center solutions for one of our premier clients.  Maria is local to our headquarters in Kentucky! 
Q: What were you doing before Interapt?
A: I worked for Anthem BCBS for 27 year and then my position was eliminated.
Q: What brought you to Interapt?
A: I was looking for the next place to stay for 27 years, lol. Honestly, I was working temp jobs until I could find something full time where I could work from home.
Q: What do you like about working at Interapt?
A: I like EVERYTHING about working at Interapt. The culture is the best I've ever been part of. I know I'm adding value and being appreciated every single day. The people are awesome – I could go on and on. It's true what they say – if you do what you love, you'll never work a day in your life. That's how I feel about working at Interapt. There are days that are more difficult, as with any position, but with Interapt, I have what I need to work through those days.
Q: How has your career grown since starting at Interapt?
A: I started with Interapt in March of 2020 as a temporary contractor with a 3 month contract. By June of that year, I was a full time employee doing IT support. Over the next couple of years, I was promoted to Process Deliver Owner, and finally to an Operations Lead position. I feel like leading a team for this company is what I was meant to do!
Q: What would you share with someone interested in working at Interapt?
A: I've never worked in a better environment than I do now with Interapt.
Q: Please share a bit about who has influenced you the most when it comes to how you approach work.
A: My husband David has influenced me the most when it comes to how I approach work. He seriously has the strongest work ethic of any one I know. In the 35+ years we've been together, the only time he ever missed work was when he was hospitalized. He's also helped me realize how important it is to be consistent, dependable, and on time.
Q: Please share a little about yourself.
A: My husband David and I just celebrated our 34th wedding anniversary and I still think he's one of the best people I know. We raised 2 girls into successful young women who have gifted us with a total of 5 grandchildren. We love spending time with them as much as possible and we also love to travel. Our favorite places to visit are typically brew pubs – he's a craft beer fan, and we love to cruise.
Q: What is the best piece of career advice you have received?
A: Be the leader that you've always wanted to have.
Q: What's one thing on your bucket list?
A: We traveled to Maine on our 25th anniversary and we'd love to go back. It was a wonderful trip. (Next year I think!!)
Q: What, if anything, are you currently binge-watching? Listening to? Or reading?
A: I've been pretty tied up crocheting blankets for the grandkids, but I'm a Stephen King and J.D. Robb fan. I have a book from each of them that I can't wait to read!
Q: What hashtag(s) describe your personality best?