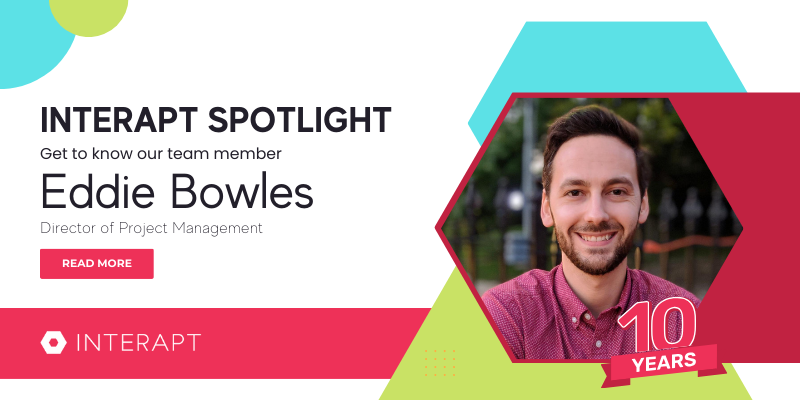 Celebrating a decade of dedication and unwavering commitment, we are thrilled to shine a spotlight on Eddie Bowles, local to Louisville, KY. Eddie's journey with Interapt is a testament to the transformative power of mentorship, resilience, and seizing opportunities for growth. Beginning as an intern on our sales team, Eddie's path reflects the true spirit of ambition and determination. Today, he serves as our Director of Project Management. 
Q: Can you tell us a bit about yourself, your role, and how you started working at Interapt 10 years ago? 
A: My name is Eddie Bowles, and I am currently the Director of Project Management at Interapt. I am a Louisville native, and I live in the St. Matthews area with my wife Laura and our dog Julep. In my role as Director of Project Management, I manage several of our client-facing software development projects and help train and mentor other project managers. I started working at Interapt as an intern on the Sales team in September 2013 while I was pursuing my MBA at the University of Louisville. 
Q: What motivated you to join the company a decade ago, and how has your role evolved since then? 
A: When I interviewed for the Sales intern position, I was excited at the prospect of working for a small startup company in the technology industry. I learned a lot during my time on the sales team, and it was during that time that I also became interested in Project Management. When I finished my MBA studies and graduated, there was an opportunity for me to join Interapt full time as a PM, and I jumped at the opportunity. When I started out, I worked under another more experienced PM and learned everything I could from him. Over time, I was able to take on more responsibilities and larger projects, and today I train, manage, and mentor other project managers on the IT Consulting Services (ITCS) team. 
Q: Can you share one memorable milestone or project you've been a part of during your time here? 
A: One recent example was the GE Profile Stand Mixer project. I managed the Interapt development team that worked on the appliance/mobile app integration for the SmartHQ app, which was completed and launched in November of 2022. This was also the first appliance integration for the SmartHQ app written completely in Flutter, a relatively new SDK based on the Dart programming language. The appliance and mobile app integration won an Innovation Award in early 2023 at CES, and the Interapt development team continues to add new features and functionality to the SmartHQ app.
Q: How would you describe the Interapt's culture and values, and how have they influenced your experience here? 
A: Servant Leadership and Impact are a couple of Interapt's values that come to mind for me. Servant leadership is very important to me and is a central value in Agile software development. It's a team first mentality that promotes growth and learning by showing strong support to employees, and this was critical to my growth when I first started working here. Impact also comes to mind, because I believe the work we are doing is very important and contributes to Interapt's goal of transforming lives through technology. As far as the culture of Interapt, things that come to mind are: people-first, work-life balance, and investing in employee growth. These are all reasons that I have stayed at Interapt for so long. 
Q: How has the company supported your professional growth and development over the years? 
A: Interapt has always been a big supporter of my professional development and growth. I have been able to go through several training and certification programs during my time at Interapt. I had the opportunity to become a Certified Scrum Product Owner (CSPO) in 2018, and I received my Project Management Professional (PMP) certification in 2023, both of which were funded by Interapt. I have also had some great bosses, mentors, and coworkers over the years who have taught me so many valuable things. 
Q: Can you share some insights into your relationships with your colleagues and how they have contributed to your tenure here? 
A: Over the years, I have had the privilege of working with some amazing co-workers, some of whom remain close friends of mine to this day. As a project manager, I am able to work with and get to know many different Interaptors across various projects. Everyone has been very professional, they value accountability, and most importantly they are committed to growth and development. This helps keep me motivated and excited to come to work.
Q: What is one of your proudest achievements or contributions to the company during your tenure? 
A: I'd say my proudest achievement during my tenure has been passing my PMP exam in February 2023. That is a certification that I had been working toward for several years, and it's the most recognized and sought-after project management certification in the industry.
Q: What valuable lesson have you learned during your 10 years here that you'd like to pass on to others? 
A: The most valuable lesson I have learned is the importance of learning from your co-workers, no matter what your job is. Even if someone has a very different job than I do, I always try to learn at least one thing from them that can help me in my day-to-day life at work. I'd encourage everyone to always be curious, ask questions, and be willing to learn something new.
Q: Is there anyone you'd like to express gratitude to or recognize for their support throughout your journey? 
A: Honestly there are too many people to thank, but I will do my best. First, I would like to thank Ankur for taking a chance on me and hiring a guy with barely any experience and allowing me to grow and develop into the role I am in today. I'd like to thank Merabeth for always having the time to listen and supporting me and the whole team through various transitions over the past few years. I'd like to thank Shea and Shalini, two awesome co-workers that I have worked with on countless projects over the past few years and who have always encouraged me and pushed me to be better. And finally, I'd like to thank the entire ITCS team, who have been amazing to work with.
Q: Is there anything else you'd like to share about your experience here or your feelings on celebrating this milestone? 
A: First off, I can't believe it's been a decade since I started at Interapt. I have really enjoyed working at a company that encourages me to grow and develop and gives me the tools to do so. It's also been exciting to see the company expand and mature through the years. Finally, it's been rewarding to work for a company started in my home state of Kentucky. I can't wait to see what we accomplish in 2024 and beyond.