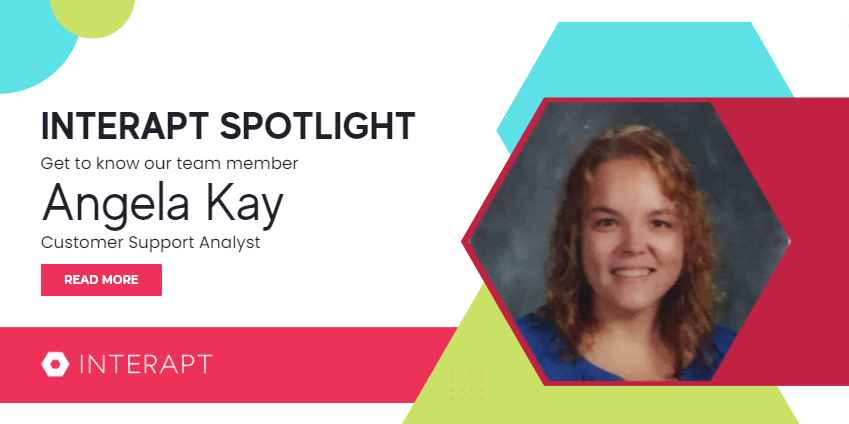 Next on our employee spotlight is Angela Kay from Salem, Indiana. Angela has held multiple roles in customer service before joining Interapt as a Customer Support Analyst. We are extremely appreciative of Angela's commitment to helping Interapt's clients and love how she is a wonderful addition to our team!
Q: What were you doing before Interapt?
A: I have always been in customer service. I was an office manager for a local newspaper for eight years, then moved to bookkeeping for two, and I worked the front desk for a financial planning firm. After that, I was a special education assistant for grades K-5 for three years. Then, I spent a year and a half as a Housewares Associate for Walmart, and finally, I'm here with Interapt.
Q: What brought you to Interapt?
A: Someone close to me told me of this company and position. This person knew I had always looked for that one position where I could grow and thrive but being from small-town Indiana, those positions were few. So opportunity, faith, persistence and this person not giving up on me brought me here.
Q: What do you like about working at Interapt?
A: I enjoy working remotely, learning a whole new world of IT, the opportunity to make a good wage to provide for my little family (and still be in my small town), and the team I am on. I can't say enough about them. The support and compassion they've shown me is wonderful, especially without meeting in person. I truly felt their compassion during the aftermath of the tornado. Everything and everyone that is Interapt is what I like about working here.
Q: How has your career grown since starting at Interapt? Feel free to add any projects you are proud to have been a part of or skills you have gained since joining. 
A: I've not been here long at all. I started in June of this year, so I've not had any large growth yet. I am on the Humana Genesys team and am in training for the Centerwell Home Health team.
Q: What would you share with someone interested in working at Interapt?
A: Go for it! Apply! You don't have to have tons of experience. You have the power to learn and grow and it's an amazing opportunity for you!
Q: Please share a bit about who has influenced you the most when it comes to how you approach work.
A: My father worked his whole life. He went to work as a young husband and new father for Salem Cheese and Milk Company. He gave his all to them and when they shut their doors in 1986, he was President of the company and the very last employee. He then had the opportunity to go to work for Kraft or start his own cheese factory. He chose the tougher route and over the next 20 years, he made cheese and ice cream at his store, The Cheese Factory, at Hubers Orchard and Winery. All the while he and my mom raised 3 active kids and he took care of his mother every single day. He received some hard health news and worked on getting healthy. He was determined, and motivated. I can only remember him ever, EVER, missing 3 days of work. After The Cheese Factory closed he came back to Salem, bought the old little store by the schools, opened another business, The Cheddar Depot, and retired. He taught me to never give up, keep my eyes open for opportunity, and keep going straight ahead.
Q: Please share a little about yourself. 
A: I have 2 wonderful, amazing, talented children. Lyric, 14, and Eva, who will be 12 next month. Right now, they are my everything. Lol. They occupy my time. When I do have the opportunity I like to take girls trips, watch live music, sew, organize (that's my calm), craft, and be outdoors.
Q: What is the best piece of career advice you have received?
A: Make good choices. The choices you make determine your path in life!
Q: What's one thing on your bucket list?
A: To travel west, with my kids, on a train to visit Las Vegas, the Grand Canyon, and the Hoover Dam.
Q: What hashtag(s) describe your personality best?
A:#funhardlovinghopefulromantic