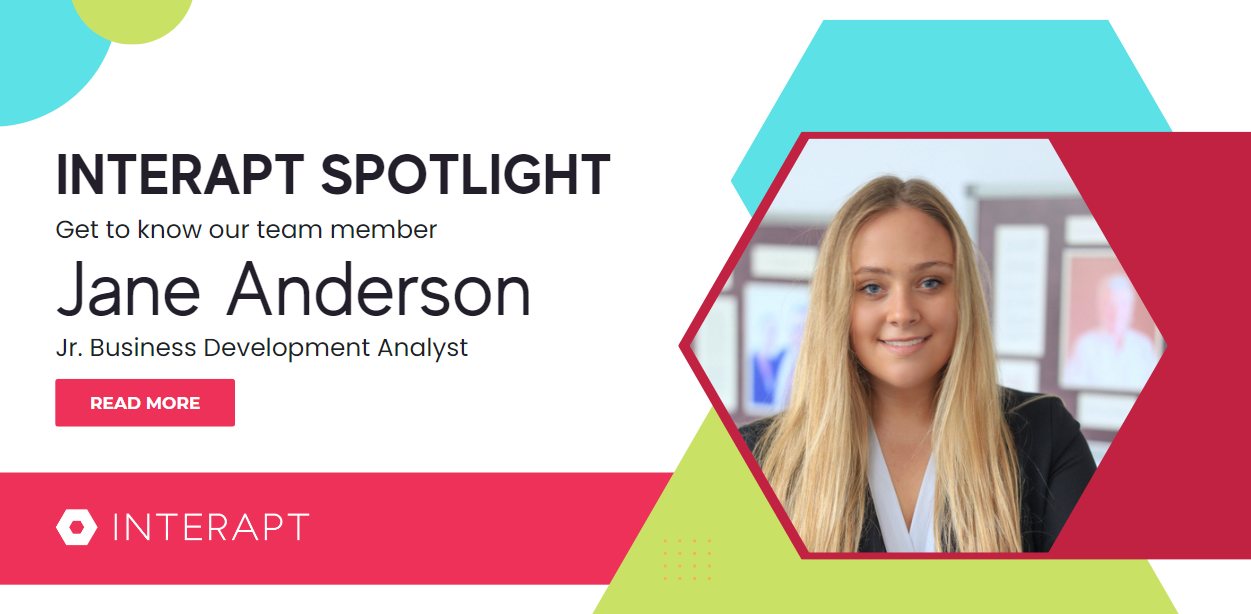 Next on our employee spotlight is Jane Anderson from Louisville, KY. Jane is currently studying Supply Chain and Digital Technology at Indiana University in Bloomington. She began at Interapt in May 2023 as a Business Development Intern and has been promoted to Jr. Business Development Analyst while continuing to work at school. 
Q: What were you doing before Interapt?
A: Interapt is my first real experience in the business world! In the past, I have worked at my family's company and as a babysitter. 
Q: What brought you to Interapt?
A: Last summer I wanted an entry-level position at a company in Louisville for some experience. I had previously met Chris Kimball from El Toro playing pickleball and he introduced me to Ankur. And, that is how I started at Interapt!
Q: What do you like about working at Interapt?
A: I like that my job is something new every day! In business development, I do a little bit of everything from researching Interapt's entrance to the government sector, cold outreach, tracking leads, and building community within Interapt through event planning. I love the people I work with and all of the professional skills Interapt has allowed me to develop.
Q: How has your career grown since starting at Interapt? Feel free to add any projects you are proud to have been a part of or skills you have gained since joining. 
A: Before starting as an intern, I had little business knowledge outside of the classes I had taken. So, my career has grown tremendously! I have learned so many new skills within the Microsoft suite, cold outreach, and government grant research. I am proud of my ability to adapt and figure things out on my own. I have spent lots of time looking at YouTube videos and focusing on professional development to learn some of the technical skills I lacked before this job. I am so grateful for the structure of Interapt (and my job in particular) that allows me to do this research while accomplishing my tasks as a Jr. Business Development Analyst. 
Q: What would you share with someone interested in working at Interapt?
A: Interapt is constantly growing and really allows you to grow alongside it! Interapt leadership encourages learning and self-growth while pushing you to achieve new things. I am very lucky to have people like Amy Zambrana and Tracey Archer who push me to learn, always take the time to teach me, and allow me to explore many different parts of the business. 
Q: Please share a bit about who has influenced you the most when it comes to how you approach work.
A: One of my biggest influences (both professionally and personally) is my cousin Emily. Emily is a very self-motivated person. She has overcome a lot of obstacles to get where she is and she has done so successfully because she knows how to form relationships and is always a go-getter. I try and take this into my everyday life and be supportive of my colleagues and always willing to help, while also introducing new ideas and volunteering to do the extra work. Also, Emily has encouraged me in my philanthropic efforts as she founded the UK Dance Marathon (Dance Blue) and supported my dedication and involvement in Indiana University's Dance Marathon which raises money for children at Riley Children's Hospital in Indianapolis. 
Q: Please share a little about yourself. 
A: I am the youngest of four siblings! I have one dog named Louis and he is quite the mutt!! I love playing tennis/pickleball, traveling, walking with friends, and cooking/baking. My newest hobby that I love is pilates classes!
Q: What is the best piece of career advice you have received?
A: One of the best pieces of career advice I got was from a professional working in the Interapt Louisville office. He told me to always put myself out there whether it be to apply for the job you may not get, make sure your boss can hear you, or volunteer to take on extra projects. He stressed that to me and I think it is very important, especially as a young person in the industry who is willing to work hard but lacks a lot of years of experience.
Q: What is your favorite vacation spot or dream travel destination?
A: My favorite vacation spot is Colorado both in the winter to ski and I love the weather during the summer. A dream of mine is to travel to the Maldives and stay in a bungalow above the water!
Q: What hashtag(s) describe your personality best?